Fife Arborist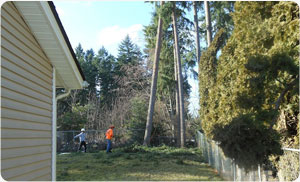 Get in touch with Hunter's Tree Service for a certified arborist to provide you with the finest possible tree care services in the Fife, WA area. Growing and maintaining trees may appear to be simple tasks that can easily be left to Mother Nature. However, the fact is that many trees need specialized care and upkeep without which they tend to wither away or look wild and unattractive.
Our specialized tree care comes from having a trained arborist on staff who has studied in detail about tree biology, health and safety. A licensed arborist knows all about the attention trees need to remain robust and majestic-looking.
Our company offers the services of an ISA certified arborist for Fife residents. Relieve the stress of worrying about the health and safety of the trees and shrubs on your property by hiring our arborist. Committed to providing holistic tree care services, our certified arborist performs wide-ranging jobs on your trees to preserve their:
Beauty
Strength
Harvest capacity and overall health
Longevity
Fife Certified Arborist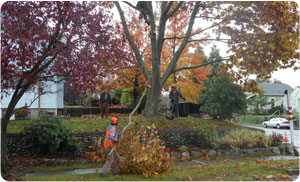 The decision to hire a certified arborist should never be taken lightly. Excellent tree maintenance is an investment that gives substantial results. The choice of a good tree care specialist ensures symmetrical, aesthetically appealing, disease-free and high-yielding trees that increase property values.
Not hiring a certified arborist can lead to poorly maintained trees that bring down the curb appeal and value of your property. Such trees become a liability instead of the beautiful assets they are meant to be.
Why let your painstakingly grown trees go to waste when our certified arborist is nearby in the Fife area to lend a hand? The services provided by our arborist include:
Tree climbing
Pruning
Storm damage assessment
Consultation and reporting on tree issues
Fife Tree Care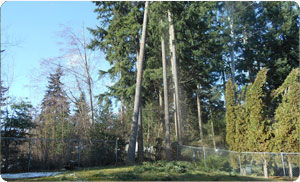 A tree service provider that has been in business since 1986, we have acquired unmatched skills along with extensive experience in care and maintenance of virtually all types of trees.
With us, you are assured of receiving a much higher level of service than you would get from a typical tree care company in the Fife area. From your first conversation with our arborist to the time our crew leaves your property after doing the requested job, we strive to give you a wonderful service experience. Our tree care services are marked by:
Courteous, personalized attention
Flawless workmanship
Competitive pricing
Fast and hassle-free job completion
To hire the services of a certified arborist in Fife, call Hunter's Tree Service at (253) 245-3939.