Graham Tree Care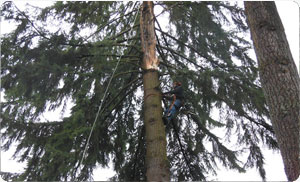 When you want the trees on your property to be robust, look beautiful and have a long life, you must get the services of a trained tree care specialist in Graham, WA. Hunter's Tree Service is the expert you can rely on for tree care and maintenance in the Graham, WA area.
Our company is a complete tree service provider that specializes in:
Tree trimming service
Inspection of trees for pests and disease
Tree nutrition and fertilization
Restoration of damaged trees
Stump and tree removal
At our company, we understand how crucial proper tree care services are for the aesthetics, health and longevity of trees. We also appreciate how much time, effort and patience goes into cultivating trees.
We are committed to helping you get optimal pleasure and benefits from the trees on your home or business by providing the finest tree care services that the Graham area has to offer.
Graham Tree Service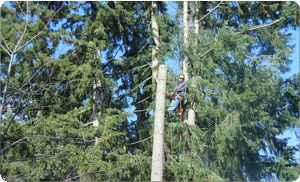 Trees require specialized care to thrive and remain healthy. Regular tree service in the Graham area by our qualified, skilled and diligent professionals is your best bet for preserving the trees on your property.
We attend to your tree service needs in Graham with arborists who:
Are ISA-certified
Have vast knowledge in different tree species
Are experienced in handling various tree health issues
Monitor and maintain trees with utmost diligence
Understand the impact of local weather conditions
Recommend the best tree health care treatments
Our experts know that tree care requirements vary for different trees. That is why we offer personalized tree service in the Graham community, tailoring the care and maintenance regimen to meet the needs of every tree we work on.
Graham Tree Trimming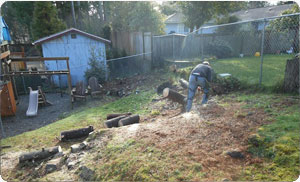 Tree trimming or pruning is one of the most basic tree maintenance jobs. The purpose of tree trimming is to:
Enhance shape and appearance of the tree
Remove decaying wood and stop the spread of pests/disease
Impede the need for tree removal
Increase sunlight and air flow throughout the tree
Remove hazardous limbs that can cause property damage or injury
We are the #1 choice for tree trimming service for Graham homeowners. Our well-trained technicians can be trusted for proper pruning practices and skillful tree trimming work that enhances the structural strength as well as beauty of trees.
To know more about tree care or to get a free estimate on tree service prices, Graham residents can contact Hunter's Tree Service. Reach us at (253) 777-1938.