Orting Arborist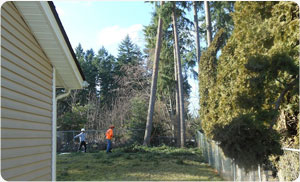 An arborist by definition is an individual who is trained in the art and science of planting, caring for, and maintaining individual trees.
Certified arborists are individuals who have achieved a level of knowledge in the art and science of tree care through experience and by passing a comprehensive examination developed by some of the nation's leading experts on tree care.
The care of plants and trees done by a professional arborist is different from that offered by a local gardener.
An arborist will not just tend to your plants and trees when they are healthy but also when they are decaying or diseased.
Rely on Hunter's Tree Service when you need a certified arborist in the Orting, WA area. Each of our arborists is certified, experienced and equipped with the right tools and products to take care of your landscape.
Following his instructions and recommendations will help you have a healthy and good looking landscape at all times. Contact us for an arborist and trust us for the following services:
Trimming and pruning of trees
Stump removal
Emergency tree care
Orting Certified Arborist
The work of a certified arborist is not limited to tending to trees when they are unhealthy. The arborist must be able to diagnose any problems a tree may be having and treat it effectively.
He should be able to climb trees and prune them with efficiency so that there are no dangerous or unsafe limbs.
For your Orting area property count on our certified arborist as he is:
Knowledgeable
Certified
Experienced
There is so much more that our certified arborist does than meets the eye. They provide recommendations for tree maintenance programs for any size and type of property.
They can also provide expert testimony for insurance claims or litigation involving trees.
Orting Tree Care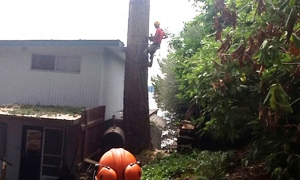 Those of you who love trees, having the best arborists taking care of your trees is important. With the presence of several companies offering tree care services in the Orting area, choosing the best one can be difficult.
Consider the following to ensure that you are making the right choice:
Professional attitude
Certification and licensing
Competitive pricing
Use of the best materials and techniques
You will find us to be the perfect company for tree care in Orting as we possess all these qualities. Give us a chance to prove just how beautiful we can make your landscape just as we have done for other home and business owners.
Call Hunter's Tree Service at (253) 245-3939 for any tree care services you may need in the Orting area.