Lake Tapps Tree Climbing
Tree climbing is a job best left to the professionals. Trimming and pruning large trees can be risky. It takes the right training and gear to safely and effectively climb trees. Hunter's Tree Service provides professional tree climbing services to clients in Lake Tapps, WA and the surrounding areas. Our tree climbing services can address all your tree care needs.
Safety is our number one priority. Our tree climbing services are designed to prevent any damage to your surrounding. We employ the latest and the safest techniques for all our tree climbing jobs in Lake Tapps.
Customers can confidently choose us as their tree climbers because:
No job is too small or too large for us
We are highly experienced
Our estimates are FREE
Lake Tapps Pruning Large Trees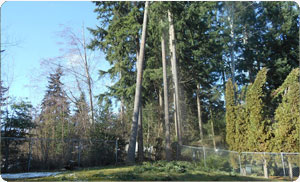 Pruning large trees can help to significantly reduce damage occurring from storms. Pruning large trees is also beneficial in improving the aesthetics of a tree.
It is important to choose a tree care company that is trained in the art and science of pruning large trees. We are happy to help you with pruning large trees in Lake Tapps. We have the skills and knowledge necessary for properly pruning large trees.
Our large tree climbing expertise allows us to:
Remove damaged or diseased branches
Reduce the height of a tree
Thin the crown to promote better air circulation
Lake Tapps Trimming Tall Trees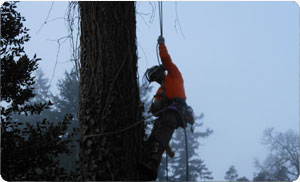 Although DIY tree trimming may sound tempting, it takes a lot of time and effort. In addition, trimming tall trees can be tricky - not to mention dangerous. If you are wondering how to cut tree limbs that are too high to reach, give us a call.
We specialize in trimming tall trees. Our arborists have been expertly trimming tall trees for years. By trimming tall trees on your Lake Tapps property, we can help you keep your yard looking neat and inviting.
A few other reasons to choose us for trimming tall trees on your property include our:
Family-owned and operated tree service business
Fully insured company to guarantee your protection and peace of mind
24-hour emergency storm response service
ISA-certified arborists who provide a quality of care for trees
If you have any questions about our tree climbing services for Lake Tapps homes and commercial properties, please do not hesitate to call Hunter's Tree Service at (253) 777-1938.