Edgewood Arborist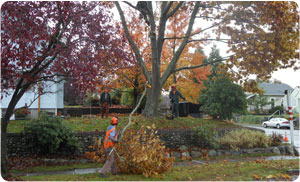 Want to keep your trees safe, healthy and strong but do not know how? Hiring an arborist for your Edgewood, WA area trees may be a good decision.
Hunter's Tree Services is a certified arborist providing tree care for home and business owners since 1986.
Beautiful and healthy trees are not only good for the planet but also add to the aesthetics of your home and prove to be good investments.
Without proper care and maintenance, trees become rickety, diseased, and pose hazards to nearby structures and people. We are trusted tree care specialist and trained arborist near the Edgewood area providing a range of tree services including:
Tree trimming
Tree disease diagnosis and treatment
Storm damage assessment
Taking care of trees is not as easy as most people think. As a certified arborist we know the right pruning methods, time and signs to detect diseases, verify overall health, and to assess their safety.
Trust us as your local arborist and consult with us about the best tree types to plant on your property.
Edgewood Certified Arborist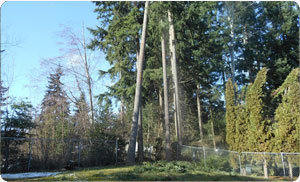 It is important to plant the right tree in the right soil and location. A wrongly placed tree deprived of growth could lead to future problems arising from limited sunshine and space.
Just like other living things, trees also need tree care specialists for preventive care to ensure good health. A certified arborist in the Edgewood area helps your trees by:
Defending from diseases
Eliminating insects
Suggesting proper irrigation and fertilizers
Tree planting and tree care need special skills and equipment. As trained and certified arborist we know the correct planting procedures and overall care to ensure strong and healthy mature trees.
Edgewood Tree Care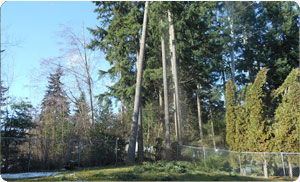 Tree pruning is one of the most important aspects of tree care for safety, beauty and health reasons. When you need an experienced arborist for complete tree care in your Edgewood area property, call us for:
Tree planting
Tree pruning
Tree removal
A certified arborist will ensure your trees get what is best for their growth and maintenance with timely pruning, proper light access, and beautiful shape. Do not let your urban trees become a problem for you.
Call us to speak with an arborist to give the right solutions and relieve you from the stress.
For an experienced arborist in the Edgewood area, call Hunter's Tree Services at (253) 245-3939. As a certified arborist, we offer professional services to promote the health and safety of trees and shrubs.