Pierce County Arborist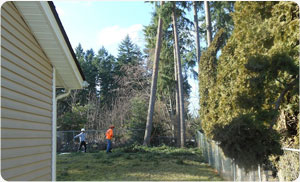 Trees are a wonderful landscaping element and a valuable asset on any property, residential or commercial. Getting high-quality tree care services from a certified arborist is critical to preserving the beauty and health of your trees.
Hunter's Tree Service is glad to be the one-stop stop for all of your arboricultural services needs. We are certified arborists in the Pierce County, WA area. We provide comprehensive tree care services to help home and business owners enjoy majestic, well-structured, robust trees in their yards and on their properties.
Our licensed arborist can be hired for:
Tree pruning and removal
Diagnosing and treating diseased trees
Assessing storm-damaged trees
Making reports on issues like heritage trees, root impact, tree safety, etc.
Whether your property has ornamental, evergreen, or fruit trees, look no further than us for the professional services of a certified arborist in Pierce County for their care and maintenance.
Pierce County Certified Arborist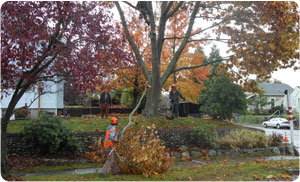 Are you wondering why it is necessary to call a certified arborist and not just let any gardener in the neighborhood help you look after your trees and shrubs? Does hiring an arborist seem like a needless expense?
The fact is that the specialized services of a certified tree care specialist like ours go a long way in fetching you optimal returns from your investment in trees that add considerable value to the property and enrich your daily life.
The ISA certified arborist we send to serve Pierce County residents has extensive education in tree anatomy and care for a wide variety of tree species. With this vast knowledge and the excellent skills honed by long experience, our certified arborist can be trusted to take wonderful care of your trees and promote:
Aesthetics
Tree Health
Tree and Property Safety
Pierce County Tree Care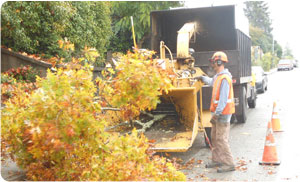 Another advantage of hiring our certified arborist is our guarantee to provide qaulity, safe, incident-free completion of all tree care jobs. Working on trees can be hazardous. Improper or careless work by untrained technicians can have disastrous consequences like injury from falling from the tree, damage from unexpected/uncontrolled felling of tree and harm to the tree itself.
Ensure your peace of mind by hiring our seasoned arborists for complete tree care services in Pierce County. Our arborists:
Are trained in using advanced tree service equipment
Follow the due safety protocols on every job
Remain attentive to details throughout
Moreover, our tree care company is fully insured.
Need expert and affordable tree care services in Pierce County? Turn to Hunter's Tree Service. Call for our arborist at (253) 245-3939.