Lakewood Arborist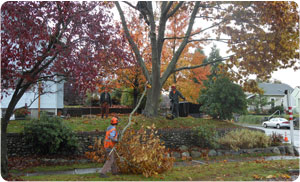 Since 1986, Hunter's Tree Services has worked hard to build a reputation offering exceptional, professional tree care by only employing specialists who hold the required certification. Our certified arborist is here to serve all of the tree care needs of Lakewood, WA area property owners. By working with a certified arborist who is trained to offer tree care, you are sure to be happy with the healthy look of your trees.
A certified arborist can help provide you with proper tree care for all of your green spaces, including preserving and protecting any heritage trees and prep ping your Lakewood area yard for new plantings. A certified arborist can offer specialist tree care services that includes:
Tree trimming with spike less climbing, causing little damage
Tree pruning
Tree removal consultation
Lakewood Certified Arborist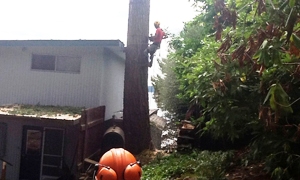 Your Lakewood area yard requires the tree care of a certified arborist to stay healthy and looking its best. As it is one of your largest investments, your Lakewood home deserves to have our certified arborist looking after its trees. Our certified arborist can:
Prepare your yard for new plantings
Diagnose and treat any diseased trees
Assess any storm damage
Prepare any required legal reports regarding your trees
If you are lucky, your Lakewood area yard boasts tall, mature trees. Pruning such trees can be quite a task and sometimes dangerous for surrounding structures or people. A certified arborist is trained to climb these trees and ensure that they prune the branches in the safest manner using only the appropriate equipment.
It is important to bring in a certified arborist to ensure that your Lakewood area trees are properly cared for, and tree care close to cables can be a difficult and hazardous job. However, a certified arborist is well-equipped to handle tree care around cabling and in Lakewood area town areas.
Lakewood Tree Care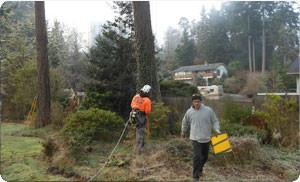 Hunter's Tree Service prides itself on working with International Society of Arboriculture Certified Arborists who professionally provide the Lakewood area with tree care services. Our tree care is based upon a philosophy of:
Education
Experience
Quality
Safety
We make it our mission to ensure that your Lakewood area trees receive proper tree care from a certified arborist, even at some bad times, by offering 24-hour emergency services.
If you are interested in having a quote drawn up for your Lakewood area yard, please call us at (253) 777-1938 to discuss your yard's trees.