Lakewood Tree Trimming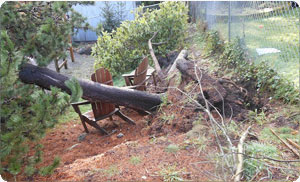 The landscape of any home or business property in Lakewood, WA looks all the more striking and attractive if it includes tall, blooming trees. However, such trees are not simply a gift of nature, but a result of sustained, painstaking tree care. Tree trimming or pruning is a major part of tree care services that are necessary to maintain elegant trees.
Here at Hunter's Tree Service, we offer expert tree trimming services for Lakewood residents who want trees that:
Look majestic

Impress all visitors, neighbors, and passers-by

Make a wonderful addition to the beauty and value of the property
Our company has been providing tree trimming services in the Lakewood area since 1986 and can be trusted to do every pruning job with finesse and the utmost care. We know all the tree pruning techniques, including crown cleaning, thinning, reduction, and raising.
Our arborists offers customized tree trimming services in Lakewood using techniques that are right for the job at hand.
Lakewood Pruning
Most people believe that tree pruning on their Lakewood property is necessary to maintain the property's outdoor beauty with magnificent, well-proportioned trees. However, improved aesthetics is just one of the benefits offered by tree trimming.
Pruning for Lakewood trees is actually very essential to promote their health and growth.
You should know that:
Tree trimming releases energy to branches and leaves

Pruning only selected branches lets the whole tree get sunlight and air

Removal of diseased branches stops infection from spreading in the tree
Therefore, you should call us regularly for tree pruning on your Lakewood property if you want your trees to flourish. If your property has fruit trees, our pruning services are sure to help you enjoy an ample harvest.
Lakewood Tree Pruning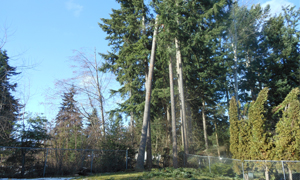 It often takes years for a tiny tree to grow into a huge tree. Poor tree care can make all that labor and patience result in nothing but a dead tree. Call us when you need tree pruning in Lakewood to ensure that your trees get the right care.
We are staffed by ISA certified arborists who:
Know about the pruning requirements of trees of all types and species

Never make hazardous cuts to any tree

Work with proper tree pruning equipment and safety gear
Choosing us for tree pruning in Lakewood is the best decision you can make for your trees.
Call Hunter's Tree Service at (253) 777-1938 today for tree trimming services in Lakewood.