Fircrest Tree Climbing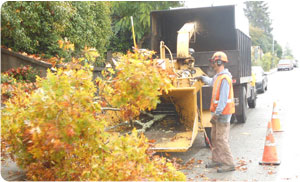 Are you looking for competent professionals for help trimming tall trees on your Fircrest, WA property? Place a call to Hunter's Tree Service. We are a fully insured tree company that has been providing tree pruning services in the region since 1976.
When it comes to pruning large trees, you need a professional who is trained and equipped for not only tree trimming, but also tree climbing. Cutting away unwanted limbs from a tall tree is not the same as trimming a shorter tree.
Trimming tall trees is much more hazardous and calls for an arborist with tree climbing training. Our company has such tree climbing experts who can be relied upon for handling the most challenging job for pruning large trees. We offer tree climbing services in Fircrest to trim huge trees for:
Deadwooding and crown raising
Aesthetic canopy work
Clearing hindrances to wires or buildings
Fircrest Pruning Large Trees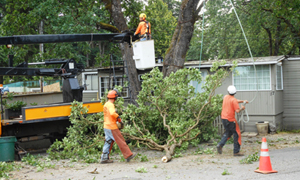 Trimming of tall trees is not a job for just any arborist. Pruning large trees safely means hiring experienced professionals who know the correct tree climbing techniques, are equipped with the right tree climbing gear, and have advanced tree pruning tools.
Moreover, the experts you hire for pruning large trees in your Fircrest property should be extremely diligent. They should know how to trim back a tree:
Without damaging the surrounding area with falling branches
Without making wrong cuts that harm the tree
In a safe, incident-free manner
Assure yourself of smooth and seamless services by hiring us for pruning large trees on your property.
Fircrest Trimming Tall Trees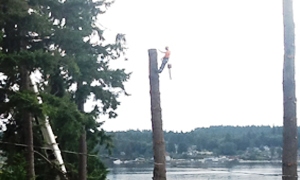 Choosing us for trimming tall trees offers you a lot more than an efficient pruning job! We are a family-owned and operated business that gives top priority to its customers. We go all out to ensure that you are 100% satisfied with our services.
We schedule trimming tall trees on your Fircrest property based on your calendar and convenience, and we also offer free estimates. Our technicians are proficient at pruning large trees and get the work done flawlessly. Better yet, we:
Complete the job quickly
Treat your property with respect
Charge a competitive price
Clean up the job site before leaving
You will be glad you chose us for trimming tall trees!
Call Hunter's Tree Service at (253) 777-1938 to learn more about our tree climbing services for Fircrest residents.