DuPont Arborist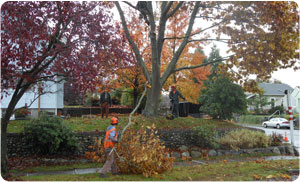 Trees are a long-term investment on any property in DuPont, WA in that they add a great deal to its beauty and value. To make sure that these assets do not turn into a liability, they need to be nurtured with proper tree care services provided by a certified arborist.
Thoroughly educated about the numerous varieties of trees, a certified arborist is the best option DuPont residents have for effectively addressing every need of their trees. Hunter's Tree Service, a reputable tree care company that has served the community since 1986,offers them the services of a:
Fully insured, ISA certified arborist

Local arborist available for 24-hour emergency storm response service

Reliable, certified arborist that completes projects on time, within budget

Affordably-priced certified arborist
The decision to choose our certified arborist to handle their precious trees is one that DuPont property owners will forever be glad they made.
DuPont Certified Arborist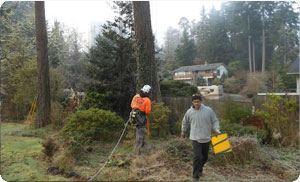 DuPont residents can count on our certified arborist for tree care services that keep their trees healthy and flourishing. Our certified arborist has everything necessary to care for and maintain trees:
Qualification to perform the complete range of tree care services

Experience in handling diverse tree care needs

Equipment to deliver the required tree care services seamlessly

Commitment to working efficiently and safely
Whether our DuPont customers need a certified arborist to climb and prune trees, prepare new tree planting, diagnose and treat diseased trees,or protect storm-damaged trees, they should give us a call.
Our certified arborist can even prepare legal reports about trees on residential or commercial properties to help DuPont property owners on issues such as public safety, heritage trees, view obstruction, and insect quarantine.
DuPont Tree Care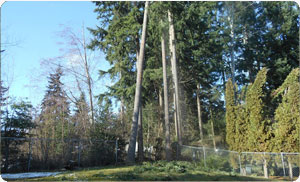 Being a small, family-owned & run tree care company, we have always focused on extending highly personalized tree care services to every one of our DuPont clients. The excellent growth, success and reputation of our business has come from an honest desire to deliver 100% customer satisfaction.
Our certified arborist uses a high level of knowledge to manage every aspect of tree care service with expertise, from giving free and fair estimates to providing exceptionally fast and effective tree care service. DuPont clients can depend on us for tree care service completed with:
Full sincerity

The utmost professionalism

Quality workmanship
DuPont residents can call (253) 777-1938 to reach the certified arborist at Hunter's Tree Service.