DuPont Tree Climbing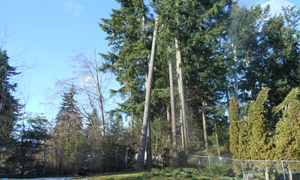 Need tree climbing services in the DuPont, WA area? Call Hunter's Tree Service. Our company is a fully insured tree service provider that has been in business since 1986.
We are staffed by highly experienced technicians who are expert at trimming tall trees.
We offer tree climbing services for DuPont property owners who have a variety of tree trimming needs. We offer specialized services for pruning large trees to improve their shape and structure, cutting out diseased or dead branches, removing hazardous or overextending limbs, or carrying out crown thinning, raising, reduction, etc.
We also provide tree climbing services for removing tall trees.
Our technicians use traditional as well as modern, non-invasive tree climbing techniques. These include:
Spiked climbing
Spikeless climbing
Advanced rope climbing
DuPont Pruning Large Trees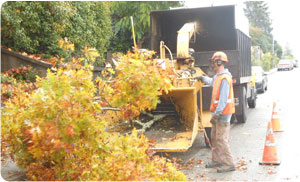 The height to which a tree grows depends a lot on the type of species and, to some extent, on the care and nutrients it receives. There are several trees that can grow up to 100 ft.
When it comes to pruning large trees, DuPont residents should hire the right people for the job. Pruning large trees is trickier and riskier than trimming trees of standard height.
When hiring us for pruning large trees on your property, you can sit back and relax knowing that your job will be handled by technicians who:
Are well-trained in tree climbing
Know the right tree pruning techniques
Have access to proper tree climbing gear and tree trimming tools
DuPont Trimming Tall Trees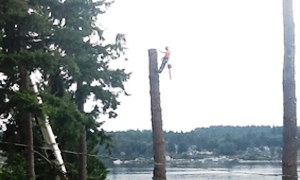 Think of us whenever you need services for trimming tall trees! A wrong choice of arborists for trimming tall trees growing on your property can become expensive. You need professionals who do not just know the proper way to cut tree branches but also know how to cut tree limbs that are too high to reach.
We can be trusted for trimming tall trees in your DuPont property:
Without damaging the tree
Ensuring that the felled limbs do not damage the nearby structures or wires
Safely completing the job
At an affordable price
Looking for expert arborists and tree climbers whom you can rely on for pruning large trees in your DuPont property? Call Hunter's Tree Service at (253) 777-1938.